SPECIAL ANNOUNCEMENT! I've written hundreds of talks for the offering time, and I do this to help you elevate the offering time. To simplify and better meet your needs, starting in March, I will be moving away from posting weekly talks to the Stewardship Coach/Stewardship Journal newsletter. Instead, I will be providing links to all my offering talks.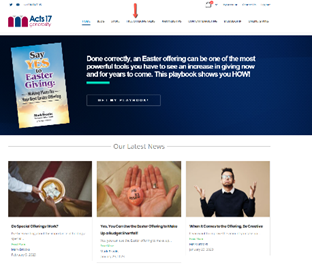 In every service, we allow you to worship through giving. We try to see the power of our giving by focusing on some reasons for missions and ministry. (Around the office, we call them Offering Talks.)
Sometimes, the question arises: Does asking for money during times of economic difficulty make a church seem tone-deaf? First, let me say we're in the same boat as you, and YOU MIGHT STATE ANY % CUTS THAT HAVE BEEN TAKEN ETC. Yet, a core value for us is that financial security begins where good stewardship/generosity begins.
We give for many reasons, but one benefit is God, that blesses those who are generous. Consider these Proverbs:
"A generous man will prosper." Proverbs 11:25
"A generous man will himself be blessed." Proverbs 22:9
Consider the words of Jesus, "Give, and it will be given to you. A good measure, pressed down, shaken together, and running over, will be poured into your lap. For with the measure you use, it will be measured to you." Luke 6:38
These verses are not teaching that we will get some multiplied amount back for every dollar we give. They are teaching that God blesses and takes care of those who give. How does that work out? Frankly, it is different for each of us, but trust me, we could fill the hour with stories from faithful givers of God's provision. Here is the thing, we give to be obedient and for the joy giving brings. It doesn't hurt that it helps secure our financial security.
Giving away a portion of your money before you pay the first bill might seem crazy to a financial planner. They might advise you to work up to that. To them, it doesn't make sense. Yet, in God's economy, it makes perfect sense, but it takes faith and obedience to begin.
We give you multiple ways by which you can give now to build security for your future.